Zion National Park…only 45 minutes away!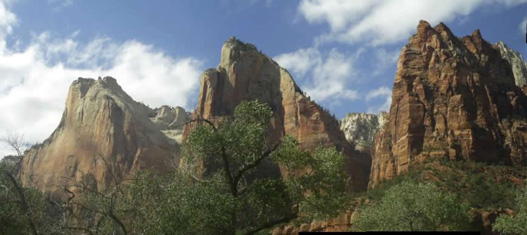 Zion National Park, located in Southern Utah, is one of the most beautiful places on earth! The park is a short 45 minute drive from St. George, Utah. Zion National Park attracts over two million visitors each year who come to see the stunning scenery and diverse plants this park has to offer. At the park visitors can choose from a variety of activities from hiking the scenic trails or backpacking along steep cliffs. Others may choose rock climbing on the vividly colored rock formations or horseback riding down a trail with breathtaking views of magnificent sandstone mountains.
A prominent feature of Zion National Park is Zion Canyon, which was formed by the Virgin River. Along Zion Canyon you can see geological features which attract the most visitors including the Virgin River Narrows, Emerald Pools, Angels Landing, The Three Patriarchs, and Kolob Arch.
Come explore Zion National Park and experience the stunning scenery for yourself and enjoy one of nature's most scenic areas in the world.