Happy Flag Day Everyone!   Scroll to the second half of this blog to find out about the Flag Retirement Ceremony.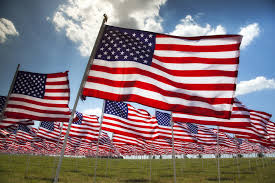 Do you know about flag day?
On June 14, 1777 the second Continental Congress adopted a resolution establishing the flag of the United States.  Over a hundred years later a Wisconsin school teacher began to advocate for recognizing June 14 as the Flag's Birthday or Flag Day.  Then in 1916, President Wilson issued Presidential Proclamation 1335 in which he "suggested" and "requested" that every community in the United States should observe June 14 as Flag Day.  Congress subsequently passed a law in 1949 which established June 14 as Flag Day and requested the President to issue an annual proclamation for Flag Day.  This proclamation instructs U.S. government officials to display the flag on all Government buildings and asks the people of the United States to observe the day in honor of the adoption of the Stars and Stripes as the official flag of the United States.  The current law can be found in the United States Code, Title 36, section 110.
As well as law establishing the official flag and Flag Day, Congress has also passed laws regarding the design of the flag as well as laws regarding the time, occasions, position and manner of display. These laws can be found in Title 4 of the United States Code, sections 1-10.
Section 5

of this Title states that this law pertains to the display and use of the flag for use by civilians or civilian groups.

Section 6

 lays out the "Time and occasions for display."

Section 7

 gives information about the position and manner of display.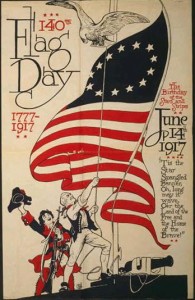 So what about that Flag Retirement Ceremony?   ST. GEORGE – Flag Day, a day set aside nationally to honor Old Glory, the United States flag, is this Saturday. That morning, city streets will be lined with American flags as one home after another has the flag posted in front of it by Boy Scout troops, volunteers and citizens. To conclude the day, old and worn flags will be disposed of in a reverent and respectful manner at the community's first large scale Flag Retirement Ceremony and Military Tribute at the Dixie Sunbowl, just three blocks from Best Western Coral Hills.  The purpose of the flag retirement ceremony is to take old American flags that are beyond repair and burn them in an honorable and dignified manner. 
The public is invited to attend the flag retirement ceremony and military tribute Saturday at 7:30 p.m., at the Dixie Sunbowl, 150 South 400 East in St. George. Admission is free.   Scouts are asked to be in uniform and arrive at 7 p.m.
Event recap
When: Saturday, 7:30-9 p.m.

Where: Dixie Sunbowl, 150 South 400 East in St. George

Admission: Free