Tuacahns "Spelling Bee" is a S-U-C-C-E-S-S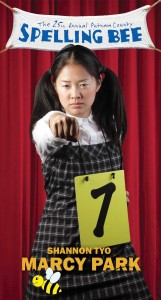 Recently went to Tuacahn's production of "The 25th Annual Putnam County SPELLING BEE". It was absolutely enjoyable with a lot of unavoidable, out loud laughter.  The cast brought out their best inner child along with a few poignant moments.  I would see it again in a heartbeat.  Best of all, it is inside the Hafen Theatre so no weather or large crowds to worry about. Get your tickets by ordering your T-U-A-C-A-H-N (Too-ah-khan; n. a great place for theatre, concerts and good times) package today through Best Western Coral Hills. 800-542-7733. 
HURRY! The production closes on August 11.