S.R. 14, Cedar Breaks, Opens Memorial Day Weekend!

a
Today May 24th, S.R. 14 is finally opening to allow traffic through to Cedar Breaks abd Duck Creek Village. The Southern Utah community has been looking forward to this since last October when a massive landslide wiped out 800 feet of the popular scenic roadway.
The road will not yet be paved so motorists will be traveling on road base (dirt/gravel) during this time. The road will open at 3:00pm on Thursday, May 24, and will remain open until 7:00am on Tuesday, May 29. After that time, the road will be closed during the day and opened each night from 7:00pm to 7:00am, except on Friday when the road will open at 5:00pm and remain open through the weekend until Monday at 7:00am. This will continue to be the schedule now through the month of July.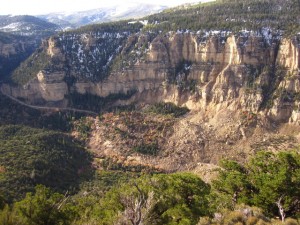 Distant view of SR 14 in October 2011.
Thank you UDOT for moving all of that!