Remember Your Kids 'n Stuff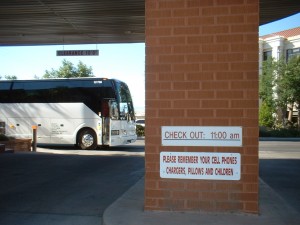 This will be the last sign you see as you leave the Best Western Coral Hills (St. Goerge, Utah).  It reads: "
PLEASE REMEMBER YOUR CELL PHONE CHARGERS, PILLOWS AND CHILDREN

". 
The most forgotten items that guests forget are their cell phone chargers and pillows.  To our knowledge, no one has ever forgotten their children but… just to be safe.  At the least, we hope it helps to start the day with light chuckle and a smile on the face.  (The reason for the smile is of course subjective.)
For guests yet to stay with us: Weclome!
For those who have stayed with us: Thank you, please come again, and let us know of anything we can improve on for next time.