Remember to VOTE!
The second Tuesday of every November is your opportunity to VOTE.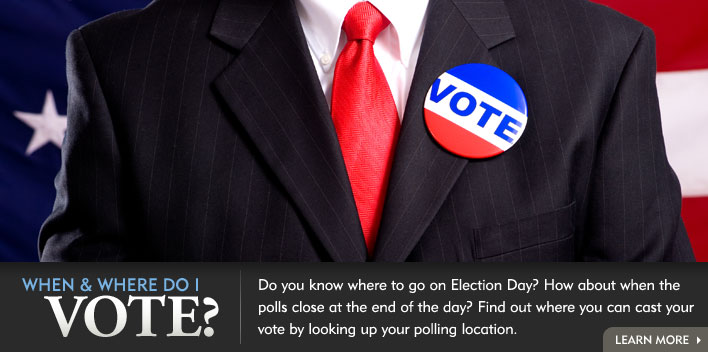 If you've ever wondered if your vote really does matter, check out these facts from some extremely close elections.
1800 – ONE VOTE in the electoral college made Thomas Jefferson President over Aaron Burr.
1845 – ONE VOTE brought Texas into the Union.
1846 – ONE VOTE decided on war with Mexixo. Its victory brought Arizona, New Mexico, Nevada, Utah and California into the union.
1847 – ONE VOTE elected Whig candidate George G. Dunn over Democratic candidate David M. Dobson for the U.S. House of Representatives in Indiana.
1948 – 87 VOTES elected Lyndon B. Johnson to the Senate.
1867 – ONE VOTE decided on the purchase of Alaskan territory.
1868 – ONE VOTE prevented President Andrew Johnson from being impeached.
1955 – ONE VOTE elected the mayor of Huron, Ohio.
1916 – ONE VOTE in each California precinct re-elected Woodrow Wilson to the Presidency over Charles E. Hughes.
1920- ONE VOTE gave women the right to vote when Harry Burn cast the deciding vote in the Tennessee State Legislature, making Tennessee the 36th state to ratify the 19th amendment and finally ending the 72 year struggle for woman's suffrage.1960 – ONE VOTE per precinct made John F. Kennedy the President over contender Richard Nixon.
1962 – ONE VOTE per precinct determined the winners for Governor in the states of Maine, Rhode Island, and North Dakota.
1977 – ONE VOTE determined in a recount, decided that Robert Emond won the seat for Vermont State Representative over Sydney Nixon.
1984 – ONE VOTE elected a Monroe County, Florida commissioner.
1999 – ONE VOTE per precinct elected Leslie Byrne to the Virginia Senate.
2000 – 237 VOTES in Florida resulted in the election of George W. Bush to the Presidency.
2002 – 5 VOTES elected Dan Sparks to the Minnesota State Senate.
2004 – 129 VOTES declared Christine Gregoire the Governor of Washington in a third and final hand recount.
Make your vote count!