Ice Skate in St. George, just two block away!!
The Dixie Igloo closed down in 2011…It was fun while it lasted but the Dixie Sun was too hot even in winter time. ;-(  But if it comes back we will be certain to blog about it.
The Dixie Igloo is open again for another of great ice skating in St. George, Utah!  The Sunbowl is only two blocks away.  I went last night and had a wonderful time!   They also have a fire barrel,  hot chocolate and a fun staff.  Eventually, it is their abition to have it in a permanent building. – John Kessler, AGM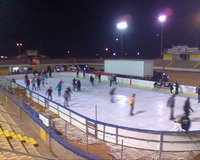 Schedules, pricing and other information is available at www.dixieigloo.com
ST. GEORGE – The Dixie Igloo Ice Centre is returning to St. George for its second year, but this time it won't be in a tent.
This year's ice rink will be located at the Dixie Sunbowl, a venue surrounded by bleachers rather than walls and located under the sky rather than a roof.
"There will be a much more outdoorsy feel and really a better atmosphere than the tent," said co-owner Dave Stanley. "It will be under the stars."
But it will also be under the sun.
"There's no doubt that having the sun hit the ice will be a little more difficult," he added. "Once the ice is made we can maintain it. As long as the temperature stays under 70 degrees we'll be fine."
To help keep the ice from melting, Stanley said, the rink will be reduced to 75 percent the size of a normal rink and the season will be restricted to Thanksgiving through January.
The new changes signify yet another risk for Stanley and co-owner James Mitchell's ice rink endeavors, but the duo points to the success of last year's rink as evidence of a local appetite.
"It was very well received by the community," Stanley said. "We had over 30,000 people come through the doors last year."
He predicted this year's numbers would surpass 40,000 as people come to simply skate or play sports like ice hockey. It's something the duo hopes would expand with the "more charming" atmosphere of this year's outdoor rink."
Brian Ahern • bahern@thespectrum.com • Published: November 09. 2010 4:55AM