DocUtah.com 2012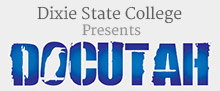 September 5th – 9th
DOCUTAH is a Southern Utah International Film Festival presented by Dixie State College in St. George. The 2012 festival will be it's third year of run. Phil Tuckett, DOCUTAH Artistic Director and Director of the DSC Film Program planted the seed of DOCUTAH in 2009. A small group of individuals went to work to create the inaugural event in September of 2010. Since then we've had more than 800 films submitted from 60 plus countries and enjoyed meeting many wonderful filmmakers. These filmmakers are among festival attendees who come for the films, stay for the scenery and depart having experienced inspiration. DOCUTAH welcomes the world and at the same time embraces the community of Southern Utah.
Academic Component – DOCUTAH is presented by Dixie State College and therefore affords us the opportunity to reach out to students and the community with filmmaker seminars and panels. Citizens are invited to attend and learn more about the art of filmmaking and also gain insight into the subject matter chosen for the film.
Outdoor Screenings – Our tagline – Come for the films, stay for the scenery – invites festival attendees to witness the brilliance of the magnificent red rocks of southern Utah. The close distance to six state and national parks makes DOCUTAH a unique place to present a film festival.
Events and Films – Documentary films engage our minds and have the potential to educate and entertain. Categories like music, environment and art speak EVENT to us and we therefore plan events for the DSC students, festival attendees and citizens of our Southern Utah community. DOCUTAH isn't just a film festival…it's a five day PARTY and every event is one not to be missed.
Our Mission – The mission of DOCUTAH is to inspire a global connection through documentary films and intellectual discussion. In doing so it will enhance the education of students and citizens of the Southern Utah Community.
Click below for Schedule, Tickets and Venues