St. George Dinosaur Discovery at Johnson Farm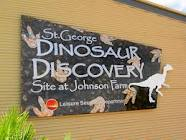 In 2000, local optometrist Dr. Sheldon Johnson was leveling a hill on his property in St. George, Utah. As he removed layers of sedimentary rock, he encountered a thick level of sandstone. As he tore it up in large blocks, a fantastic object was revealed – a three-dimensionally preserved dinosaur track. It was to be the first of thousands of tracks made by dinosaurs and other animals that have now been recognized or recovered from the numerous layers of sandstone and mudstone that formed almost 200 million years ago on the shores of an ancient lake in the vicinity of St. George.
 Dr. Johnson had seen dinosaur tracks in the region, but at first he was confused. The footprint he saw was visible in both the brittle clay below and also on the bottom of the sandstone block he had overturned. Experts, including Utah State Paleontologist, Dr. Jim Kirkland, came to help identify additional tracks at the site which revealed the extensive trackways to be found here.
Realizing that these tracks would be best served if they were maintained for scientific and educational purposes, Dr. Johnson and his wife, LaVerna, worked to set aside the land and its fossils. Eventually the Johnsons donated the tracks that had been found and arranged for the land to be cared for by the City of St. George. They worked with scientists, local businesses, and government officials on the local, state, and national level to create the museum that is here today. They founded the DinosaurAh!Torium Foundation that continues to preserve this site as a creative learning environment with hands-on activities that challenge, enlighten, and entertain the minds of all who come.
The best preserved and most numerous of the tracks today form the in-place trackway and exhibits of the St. George Dinosaur Discovery Site at Johnson Farm. Many other fossils, including bones of dinosaurs and fish, shells of small aquatic animals, and leaves and seeds of plants, have joined the footprints to enable paleontologists to reconstruct the nearly 200 million year old ecosystem preserved here with unprecedented clarity, an extreme rarity for rocks of any time period.
Since the initial discovery, hundreds of thousands of visitors, including paleontologists from all over the world, have marveled at this unique discovery.