Cinco de Mayo, St. George, UT 2012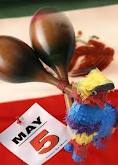 The Cinco de Mayo festivities for St. George, Utah will be held on May 5th PERFECT!
Food, kids booths, games and entertainment will take place at 157 North 200 West in the parking lot of the St. George Catholic Church.  From 10am till 8pm.
The St. George Catholic church is only three blocks away from the Best Western Coral Hills!  Once again we are close the big happenings in town, you could walk there and enjoy the St. George Historic District while going to and returning from the event.
Cinco de Mayo ENTERTAINMENT Schedule    May 5, 2012
10:30am          Parade of Typical Mexican Folkloric Dresses 
11:00 – 11:30   Mexican Folkloric Dances from different groups from the church boys,
                            girls, ladies, and a couple visiting from another Church
11:30 – 12:00   Kids from Dixie Sun Elementary will do a Drum performance
12:00               Announcement of the Basket Raffle for the Golf Tournament
12:00 – 12:45   Luis (from Casa Dona Maria) will sing Mexican Traditional Mariachi Music
                             A dance performed by boys from Church in the middle
12:45- 1:15      Presentation of the Princesses, Prince and participants for Queen
1:15  – 2:00      Grupo Fuego will perform some Hip-Hop and Jazz
2:00 – 3:00       "Las Palomas" Group will perform Spanish Flamenco Dances, combined
                            with Mexican Typical Dances
3:00 – 3:30       Queen and King presentation 
3:30 – 4:15       Mexican Folkloric Dances from different regions of Mexico performed by
                             kids and ladies of the church
4:15 – 4:45       Singer from North Utah will interpret Mexican Mariachi Music
______________
While many believe that the holiday of Cinco de Mayo is a celebration of Mexico's Independence Day, this is an incorrect assumption. To learn of the actual significance of Cinco de Mayo, watch this short video history of the actual significance of Cinco de Mayo by History.com.  For the origins of Cinco de Mayo please click the "link below".