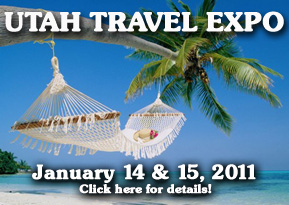 We are coming to Northern Utah! Come visit our booth at the TravelUtah Expo and enter to win the chance to win a free night stay in our elegant Jacuzzi suites.  While there you can also get information about the 2011 year for Tuacahn, golf  and receive other hotel discounts for future stays.
CLICK HERE FOR YOUR $2 OFF COUPON!
It's time for the Utah Travel Expo!  Please join us and over 50 of the world's best tour, hotel and cruise companies!  The Utah Travel Expo is your place for EXCLUSIVE travel discounts and savings.  Everyone that attends will get a discount of up to $100 plus additional savings and amenities offered by tour and cruise companies, plus a chance to win a trip to Hawaii and other valuable trips and prizes.  Come ready to plan your next vacation!
 
Dates and Times:
FRIDAY, JANUARY 14 – Doors open from 3:00PM to 9:00PM
SATURDAY, JANUARY 15 – Doors open from 10:00AM to 3:00PM
 
Special Guests and Seminars:
Alan McKay presents – China a land full of tradition, culture, and excitement!
Larry Gelwix, the "Getaway Guru" –  HOW TO TRAVEL FOR FREE OR ALMOST FREE
On Stage Alaska – Presented by Holland America. See the beauty of Alaska!
And More! – See schedule for complete details!
 
Location:
Davis Conference Center is located in Layton north of the Layton Hills Mall. The address is: 1651 North 700 West; Layton, Utah 84041
 
The Utah Travel Expo is sponsored by Columbus Travel and Dick Jensen and Alan McKay Tours, Utah's two top travel companies. 
FOOD SPECIALS: Get a free BBQ sandwich compliments of Holy Smoke BBQ. Subzero Ice Cream will be giving free samples at their booth and Jimmy John's will be bringing in samples.  Plus dinning discounts at Boston's Restaurant and Sports Bar and TCBY. The value of the food samples and discounts is worth the ticket price!
Tickets are just $5 per person (17 and under are free) and if you pre-purchase or present the coupon you will get $2 off the regular price. All tickets that are pre-purchased online will be entered to win a 3 night cruise.  Tickets can be pre-purchased by clicking on the above picture or or by calling Columbus Travel at 801-295-9568, 801-295-9568 or 800-373-3328, 800-373-3328 All of the information about the Utah Travel Expo can be found on this site.