On January 30-31 at 7:30 P.M.  The Osmond Brothers will make their first debut to St.George, Utah!
NEXT GENERATION OF OSMOND MEN TO APPEAR IN CONCERT
The famous Osmond family will be featured as part of the Celebrity Concert Series on Monday and Tuesday, Jan. 30-31 in the Cox Performing Arts Center at Dixie State College.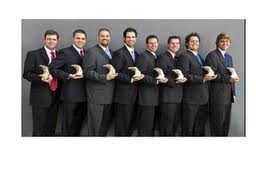 The Osmonds – Second Generation are a talented group of brothers – all sons of Alan Osmond, one of the original Osmond Brothers that included Wayne, Merrill, Jay, Alan and Donny Osmond. These brothers have performed to sold-out crowds in the United States and in more than 14 different countries. In addition to wowing audiences with their musical talents, the men have also served as youth chairmen for many years for the Children's Miracle Network, a charity founded by their grandmother.
This concert is a highlight of Celebrity Concert Series this season, and the performers will additionally be guests at a fundraising candlelight dinner and concert on the Cox Auditorium stage on Tuesday, Jan. 31 prior to that evening's show. The public is invited to the fundraiser, and all proceeds from this event will go to the arts and performing art scholarships at Dixie State College. Individual reservations for the dinner are $75 and can be made by calling (435) 652-7994. Tables will be set up on the Cox stage and a delectable dinner will be served to the guests. Members of the Osmond group will perform a private concert and hold a discussion for the dinner guests. The schedule will be as follows:
 4:30 p.m.                 Lobby Reception in the Cox Performing Arts Center
5:00 p.m.                 Dinner on the stage with a choice of entree
6:00 p.m.                 Artists' presentation
7:30 p.m.                 Osmonds – Second Generation concert
 The Osmonds – Second Generation have had three top 40 hits in the U.K. and have signed record deals with Epic/Sony in Europe as well as Curb Records. MTV, Live with Regis and Kathy Lee, Entertainment Tonight, CNN and Good Morning America are just a few of the many TV shows they have appeared on. For three consecutive years they were voted "Best Young Group of the Year" in Branson, Mo., and one of their biggest achievements was being inducted into Branson's Hall of Fame.
The brothers starred in the hit musical "Joseph and the Amazing Technicolor Dreamcoat," touring North America for two years. This close-knit group of brothers are best known for their tight harmonies and family values. Both David Osmond – recently featured on "American Idol" – and Nathan Osmond are pursuing solo careers in addition to performing with their brothers. Nathan recently debuted his country CD "Feels Like Heaven," and David has just released his debut pop CD entitled "Reflected." Nathan recorded his country album in Nashville with top-selling musical group Lonestar.
The Osmonds – Second Generation will perform at Cox Performing Arts Center, 325 S. 700 East in St. George. Tickets are $20 and available at the Dixie State College Cox Box Office, (435) 652-7800.