Brian Regan returns to Tuacahn Thursday – Saturday, May 10-12, 2012 8:00pm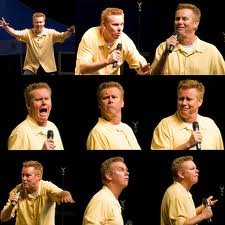 American's favorite comedian returns to Tuacahn by popular demand!
Critics and peers agree: Brian Regan has distinguished himself as one of the premier comedians in the country. The perfect balance of sophisticated writing and physicality, Brian fills theaters nationwide with fervent fans that span generations.
Releasing two critically acclaimed hour Comedy Central specials and DVD's in as many years–2008's "The Epitome of Hyperbole," and 2007's "Brian Regan Standing Up"–Brian has set a standard of excellence that others continually try to follow.
Brian's non-stop theater tour has visited more than 80 cities each year since 2005 and continues through 2012. It is the quality of his material, relatable to a wide audience and revered by his peers, which continues to grow Brian's fan base. In March Brian broke the record for the most consecutive shows by a comedian at Abravanal Hall in Salt Lake City with five sold out performances. The previous record was four shows set by Jerry Seinfeld in 2005.
With his first appearance on The Late Show with David Letterman in 1995, Brian solidified his place on the show and has now made more than 20 appearances. He also includes regular visits with Conan O'Brien on his schedule.
Tickets can be purchased directly with Tuacahn or packaged through Best Western Coral Hills for a discount on your room.