Bird Watchers: Purple Sandpiper spotted at Sand Hollow!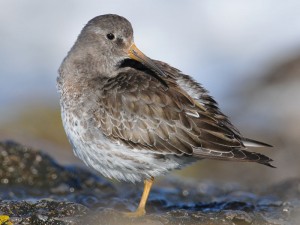 The Purple Sandpiper was spotted last evening and this morning by one of our guests and posted is experience on the www.utahbirds.org site.  This bird is not indigenous to the southern Utah area.  It is a juvenile and it is thought it was blown into the are by the recent storms. (these photos are not of the actual bird sighted at Sand Hollow)
Go to https://utahbirds.org/counties/SiteIndex.htm to find out where the best bird watching locations are in Washington County.  Click on "by County" then choose "washington county" on the map or list.  Also listed are the sightings of rare birds and other useful information for bird watching in the county.  Especially helpful are the ready to print sightings check lists.  
 Another helpful site for birdwatching information is http://www.birding.com/bestwebsites.asp which gives a link to the top 25 current birdwatching sites.