Bar G Wranglers visit from Bryce Canyon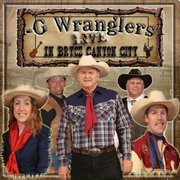 The Bar G Wranglers live western singing group was formed in 1998 by Russ Eacker of Hurricane, Utah. He and his dad, Dean Eacker, sang together with the "Sons of the Golden West" and are former members of the "Bar J Wranglers" from Jackson Hole, Wyoming. Russ grew up watching his dad work with the likes of the "Spade Cooley Band," "Tex Williams Western Caravan" and once singing with Roy Rogers and Tex Williams at a large rodeo in the Los Angeles Coliseum. He decided keeping western music alive and well, was a mission that he wanted to be a part of.
Typically to enjoy the Bar G Wranglers you would have to visit them at the Ebenezer's Barn & Grill at Bryce Canyon where they perform nightly.  However on April 11th they will be giving a FREE public performance at 7:30pm at the Vernon Worthen Park at 300 S 400 E.  The park is only 3 blocks away from the Best Western Coral Hills. 
The Best Western Coral Hills is a proud sponsor of the 2011 St. George Concert in the Park Series.  All concerts are open to the public and free of charge.  Hosted every second Monday from April through September and start at 7:30pm