Cirque Ziva – Golden Dragon Acrobats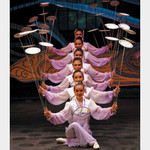 Golden Dragon Acrobats return to St. George, Utah
Golden Dragon Acrobats are awe inspiring and a delight to see. Welcome back to the Cox Auditorium stage at Dixie State University, The Golden Dragon Acrobats hail from Cangzhou, Hebei province, in the People's Republic of China and have toured the United States continuously since 1978. Its members are athletes, actors and artists who have studied and trained for their craft since early childhood. The group averages 200 performances each year and has toured through all 50 states and in over 65 countries across the world. In 2005, their Broadway debut and seven-week run at the New Victory… Show more Theater earned two prestigious New York Drama Desk Awards nominations (for Best Choreography and Most Unique Theatrical Experience).
The group's founder, producer and artistic director, Danny Chang, is one of the world's leading promoters of Chinese acrobatics. He began his training at the age of eight with his family's acrobatic school in Taipei, and joined its touring wing, the Golden Dragon Acrobats, at age ten. He is the recipient of many awards, including the prestigious Medal for International Faith and Goodwill by the Republic of China's Coordination Council for North American Affairs. In 1998, Chang restructured the Golden Dragon Acrobats to form Asian Artists Productions, Inc. (AAPI). While the new company continued to produce and tour the Golden Dragon Acrobats, AAIP expanded to create theatrically elaborate shows like Circo Magnifico, Dream, Pagoda, Cirque D'or and others, each for a specific US market.
Cirque Zíva is the latest of these shows, created in 2011 by AAPI in coordination with renowned lighting director Tony Tucci (American Ballet Theatre's Configurations with Mikhail Baryshnikov; Alvin Ailey American Dance Theatre; 1996 Summer Olympics Cultural Olympiad). The production ran for ten straight weeks (four weeks added by popular demand) at Asbury Park Boardwalk's Paramount Theatre – the first-ever run held at the New Jersey venue in its more than 80-year history. Night after night Cirque Zíva earned critical acclaim, packed houses and standing ovations. With visual and technical innovations presented beautifully in centuries-old Chinese acrobatics, the show had grown to represent the best of AAPI and its brand of artistic merit, high production value, and solid commitment to cultural exchange. With that, AAPI began gearing the show for the road, and from January through May of 2013 the Golden Dragon Acrobats present the North American Premiere Tour of Cirque Zíva!
Click to purchase tickets.
http://www.goldendragonacrobats.com/
http://dixieculturalarts.com/th_event/cirque-ziva-golden-dragon-acrobats/