st. george & surrounding areas
BEST WESTERN Coral Hills is your Headquarters while visiting St. George, Utah's Dixie, the National Parks and other scenic and recreational areas in Southwestern Utah's Color Country.
St. George, southern Utah's largest city, is located within easy driving distance to seven National Parks and numerous State Parks and National Monuments. Located 300 miles south of Salt Lake City and 110 miles north of Las Vegas on I-15.
St. George has long been a destination and stop-over for travelers on the Los Angeles, Salt Lake and Denver interstate routes. There's plenty of sunshine all year in Utah's Dixie for your favorite recreational activities. Winter, Spring and Autumn are especially nice with mild daytime temperatures ranging into the 60's and 70's.
If you would like a more broad view of the surrounding region including a city map or a region map, please follow the links below.
[Spider_Calendar id="1″ theme="13″ default="month" select="month,list,week,day,"]
JANUARY:
Washington County Economic Summit
St. George Winter Bird Festival
Brigham's Playhouse Annual Season
St. George Musical Theater Annual Season
Celebrity Concert Series Annual Season
FEBRUARY:
St. George Area Parade of Homes
Sears Dixie Invitational Art Show
Southern Utah Heritage Choir
Southwest Symphony
MARCH:
Skywest Mini Indy
St. Patrick's Day Celebration
APRIL:
Kayenta Street Painting Festival
Dixie Power Kite Festival
St. George Art Festival
Easter Car Show
MAY:
Dino Days in Dixie
Cotton Days
Tuacahn Summer Season
Ironman Triathlon
Sand Hollow Triathlon
JUNE:
Utah Shakespeare Festival, (Jun-Oct)
Utah Summer Games
JULY:
Neil Simons Festival (Jun-Oct)
Independence Day, 4th of July Celebrations
Statehood Day 24th Pioneer Day Celebrations
AUGUST:
Washington County Fair
Western Legends Roundup
SEPTEMBER:
Lion's Dixie Roundup Rodeo
Art Around the Corner
OCTOBER:
Art in Kayenta
St. George Marathon
Huntsman World Senior Games
NOVEMBER:
Jubilee of Trees
Coins for Kids
DECEMBER:
Tuacahn's Christmas in the Canyon Live Nativity
Dicken's Christmas Festival
Packages & special offers
At BEST WESTERN Coral Hills, we offer a variety of entertainment and golf packages to enhance your vacation. Click here to view our packages!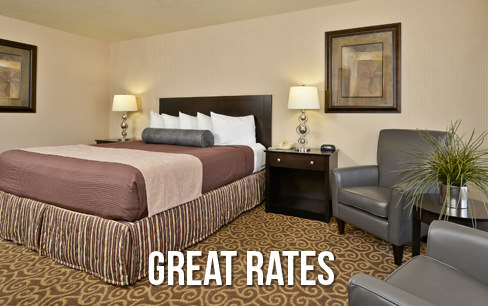 Best 5 Planning Tips for a Resourceful Family Vacation
Budget-friendly family vacation planning requires a lot of research. Particularly when you are traveling with your kids you need a perfect planning so that you can spend your vacation peacefully. Most people do the common mistake by miscalculating the expenses during vacation. When you are planning your vacation budget, don't forget to include cabs, meals, tips, souvenirs and other miscellaneous expenses. Though you planned for an affordable budget vacation, you still can enjoy a lot of fun activities and you can spend quality time with your family.

Photo Credit: Lagniappe Destinations on flickr
Select a Vacation Spot Closer to Home:
People generally look forward to going different places in the world for a memorable vacation. Faraway destinations, plane rides often come to their mind when they plan for a vacation with a family. But, there is a possibility to find a better vacation spot closer to your home, like Newyorkers can opt for Florida or Hawaii destinations. Similarly, Florida residents can choose New York City or Caribbean destinations for a happy and budget-friendly vacation with family.
You don't need to spend a lot of money for flight tickets to have fun; you can as well choose the closer areas that offer you loads of fun and excitement. After all you are looking for a peaceful get away to be with family and friends. Plan your activities and follow it exactly so that you won't miss anything.
Involve Children to Choose Activities:
Make sure to involve your kids in choosing the activities, plan your day trips perfectly, so that kids do not get bored and tired. Also, make sure to get a nice and comfy hotel for your stay, it makes kids happy and naturally you will be happy. Planning is required especially when you have a limited budget and it is not something bad to make a perfect plan to save money, when you involve children in selecting the day trips can make them happy and one less worry for you. So, go ahead and involve all your kids in choosing activities and day trips when you are on vacation.
Camping is Fun:
If you and your family are comfortable camping at campsites, then choose to camp, it is the best and fun way to bond and catch up with your loved ones. Camping at the campsite can cost you very less compared to the hotel room. Many campgrounds and state parks charge over 25 dollar per night, isn't it amazing!! You can have quality time as well as save some money.
Choose Travel Dates Wisely:
If you are planning to visit little far places for vacation, then you must choose the dates that are convenient for everyone, wise choice can save your time and also save on package deals that most airlines, hotels and resorts offers for the visitors on offseason. If you go in peak season, you will end up paying lot for plane tickets, hotels and other activities. So, be wise and choose appropriate dates to save money and rush so that you will have a peaceful vacation.
Don't wait for desperate Travel Deals:
Many people wait till last minute to obtain travel deals and discounts, they believe that they should obtain them only in the last minute deals including airlines, hotels, and car rentals. But, most of these deals are not valid in peak season. Also, all these deals and discounts have limited time; they expire on that specified day, so you should check clearly if these coupons are valid or not before using them. But, for the convenience of visitors many hotels, car rentals and airlines offer these deals throughout the year.
These are 5 vital tips for planning an affordable vacation with family. Taking the entire family on a vacation is not easy as it requires a lot of budget for air tickets, hotel rooms, and etc. Therefore, one has to plan it well to make their vacation the most memorable and fun.