Walk the path of the eagle …
4,000 feet above the natural wonder of the Grand Canyon. Look down through 2.5 inches of crystal-clear glass to the Canyon floor below.  Stand on the edge of an engineering marvel that extends 70 feet over the Grand Canyon's rim and weighs 1.2 million pounds.  Gaze at the West Rim of the Grand Canyon, one of the world's natural wonders. 
Are you ready to "Walk the Sky?"
 The Grand Canyon Skywalk is located at Grand Canyon West Rim, on the Hualapai Nation.
Visiting Grand Canyon West Rim is a wonderful Day Trip from Las Vegas or Northern Arizona. In addition to 'Walking the Sky' at the Skywalk, you can watch traditional performances by Hualapai tribe members, take a one-day white water rafting tour, land in a helicopter at the bottom of the Grand Canyon or stay overnight in one of the cabins at the Hualapai Ranch.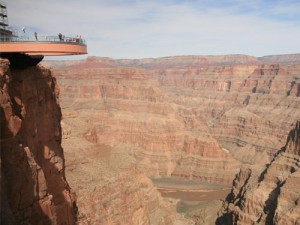 The Skywalk at Grand Canyon West Rim