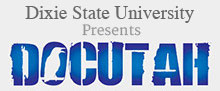 September 3-7, 2013
DOCUTAH is a Southern Utah International Film Festival presented by Dixie State University in St. George. The 2013 festival will be it's fourth year of run. Phil Tuckett, DOCUTAH Artistic Director and Director of the DSU Film Program planted the seed of DOCUTAH in 2009. A small group of individuals went to work to create the inaugural event in September of 2010. Since then we've had more than 800 films submitted from 60 plus countries and enjoyed meeting many wonderful filmmakers. These filmmakers are among festival attendees who come for the films, stay for the scenery and depart having experienced inspiration. DOCUTAH welcomes the world and at the same time embraces the community of Southern Utah.
Location:
The DOCUTAH festival is located in the southwestern corner of Utah between Zion National Park and Grand Canyon National Park. Films and events will be offered in several venues in the towns of Springdale, Kanab, St. George and Ivins.
This part of Utah is renowned for it's close proximity to several national and state parks which are listed below. The area offers many outdoor activities for visitors such as sightseeing, hiking, camping, off-road adventures, boating, and golfing to name just a few.
Click HERE to link to the DOCUTAH site for Directions, Venues and Scheduling information. 
The BEST WESTERN Coral Hills also offers a discount to festival attendees.